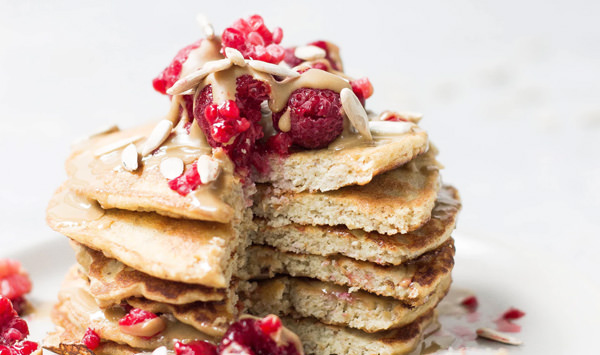 01 Apr

Vegan Buckwheat Pancakes

Of all the 'wheat's out there, Buckwheat has got to be one of our favourites! Despite it's name, buckwheat is not actually related to wheat but is rather known as a pseudo-cereal – a seed group that is consumed in the same way as cereal grains, but do not grow on grasses. Being a seed, buckwheat is completely gluten-free, and a great alternative to regular and whole-wheat flours.

You'll find buckwheat has a nutty flavour and slightly grainier texture to it's regular flour counterpart, and cooks up much darker than normal flours making baked goods look almost delectably chocolatey.

With great health benefits such as improved blood sugar control and promoting better heart health, why not try introducing buckwheat into your diet with our delicious buckwheat pancake recipe?
Ingredients
1 cup / 125 g buckwheat flour
pinch of salt
½ tsp gluten-free baking powder
½ tsp baking soda
2 tbsp maple syrup
1 tbsp lemon or lime juice
½ cup full fat coconut milk + ½ cup water OR 1 cup of any plant milk + ½ cup water
1 heaped tbsp (ideally smooth) almond butter
2 tsp oil for frying
Suggested Toppings
Maple syrup
Fresh berries
BSKT Veganola
Coconut yoghurt (or a side serving of Cocowhip!)
Method
In a mixing bowl, combine flour, salt, baking soda and baking powder.
In another bowl, combine all wet ingredients: coconut milk, ½ cup water, maple syrup, lemon juice and almond butter. Whisk everything together until combined and there are no chunks of almond butter in the mixture.
Pour wet ingredients into dry ingredients stirring until you get a smooth mixture. If you like your pancakes thick add less water, if you prefer them thin add more.
Heat up a frying pan, brush the pan with a bit of oil.
Ladle 2 tablespoons of the pancake mix per pancake. Keep cooking the pancakes until lots of little bubbles form and burst. If you flip them before the bubbles burst they may end up undercooked.
Once bubbles burst, flip pancakes gently. Fry until nicely browned on the other side and serve.
Top with your favourite ingredients and drizzle with maple syrup to serve.