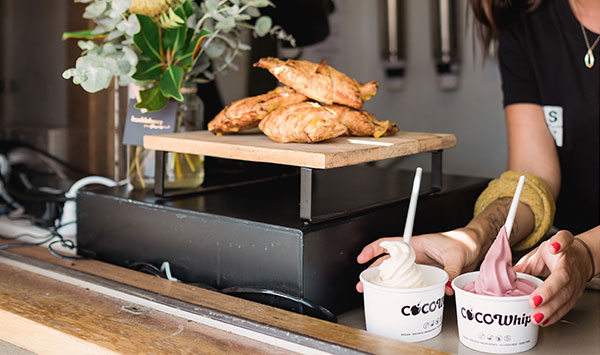 18 Nov

How to Host an Influencer at your Café

Everyone's talking about influencer marketing, but what is it exactly? And is it worth it?

Influencer marketing is when a person with a large following on social media (normally Instagram), agrees to post about a brand or product. Endorsing it, in effect.

Is it effective? According to MuseFind, 92% of Millennials trust a social media influencer more than the most famous celebrity. And 71% of consumers are more likely to make a purchase based on a social media reference.

With the growth of food bloggers, social media is an important tool to promote your café or food truck.

From time to time, we may contact you about hosting an influencer at your cafe. If you decide to participate, here's what to expect and how to make the most of the visit.
Communication Before the Visit
What to offer the influencer
Some influencers are happy to try Cocowhip, and others would like to try more of your cafe's offerings.
It's always up to you whether or not to offer additional food and beverages to the influencer.
We recommend offering as much as you're comfortable with. This not only leads to better images with a full table and also allows the influencer to promote your other offerings.
When an influencer visited Caffe Republic, they were treated to a whole spread. This enabled the influencer to take multiple images and provide a whole library of shots to both Cocowhip and the cafe.
Who to invite
Influencers often want to bring a friend with them, typically another blogger. We encourage this, as it means that your cafe and Cocowhip get double the exposure and images.
Arranging a time
We always try to arrange a specific day and time for influencer visits. However, sometimes people run late or the unexpected happens.
If there is a time of day that doesn't work, it's important to communicate this clearly.
In return, we'll ask the influencer to get in touch with you directly if their plans change last minute.
The Visit
Welcoming the influencer
Have a go-to person the day of that knows to expect the influencer and is designated to handle all requests.
When the influencer arrives, welcome them and give them a tour if you like. Let them know your Instagram handle and any particular hashtags as well.
Ordering
It's important to communicate expectations. Let the influencer know what you are willing to provide.
It's better to let them know that you are only able to offer certain dishes than to let them order and then get stuck with a bill.
If you have any standout dishes, it's great to guide the influencer to ordering them. Anything that is popular or photographs well is a great option.
If the influencer is asking for more than you have agreed to, let them know. It's OK to tell them that certain dishes won't be complimentary, but this must be done before they order.
Follow Up
After the visit, the fun doesn't stop. We'll ask the influencer to send us any images they took, and then share them with you.
Keep a lookout on social for any posts or Instagram stories they might tag you in and go ahead and repost. Just always make sure to properly credit them by tagging their Instagram handle.